Just saw this today:
I tend to agree with fellow blogger
Laurent J. Masson
There is some good news in the EV industry for long term like bigger German companies getting involved, but there is not one platform that is widely accepted yet. Both Fuel Cell and EV will be competing for limited space.
When it comes to rental and city fleets both articles have it wrong. Neither unit will work unless they are dirt cheap.
Both Hydrogenfuelnews.com and Revmodo.com are reporting on the Hawaii trials of some Hydrogen based scooters. Neither blog knows squat about scooter rental companies or how they make money, they are just fluff pieces on the press release. The truth is bikes have to be dirt cheap and with easy to find parts for rental companies to work. I love the story hate the angle that they will be efficient for rental fleets. They won't.
http://www.hydrogenfuelnews.com/hydrogen-scooters-coming-to-hawaii/855273/
http://revmodo.com/2012/08/20/hawaiian-company-bringing-hydrogen-
fuel-cell-scooters-to-u-s/
Rental fleets only make money when its a widely used model with easy to find parts. You must use a generic mold with cheap parts. Use an exclusive design and you live / die by the brand. Ask all the hundreds of dealers who have rental fleets by Daelim or TGB in the USA. They have trouble getting parts after Daelim left the market and as much as I love TGB the brand doesn't have a US importer supporting them like they used to so what happens to the brand? Same happened with Diamo and TNG rental fleets.
Much of this technology doesn't currently make any money. If you read my blog you've seen some rants on the endless investors coming and going from the EV scooter market. A good blog to check is
http://www.plugincars.com/german-manufacturers-believe-electric-scooters-123786.html
Best of all his the bloggers quote on the state of electrics like Brammo, Zero, and others.
They're not successful at all in Europe, and I don't think they ever will. Real bikers don't want anything electric. The market belongs to urban commuters.
Lets see what happens the USA is not a real market its a market for marketing. None of these companies can make a profit or a living off Hawaii, but it will be interesting to see how it works.
2006 ZES4 5 fuel cell scooter driving test in Japan by JSW
http://www.youtube.com/user/fuelcell2010?feature=watch
http://www.youtube.com/watch?v=YuQa-HyV3h0&feature=relmfu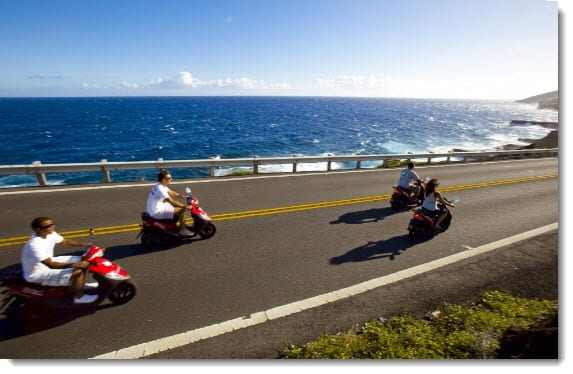 Hawaiians will soon see a new form of renewable-energy-powered transportation zipping around the island emissions-free: hydrogen fuel cell scooters.
Expected to arrived on Honolulu by 2013, the ZES scooters are being manufactured and delivered through a partnership between Big Island hydrogen production systems company H2 Technologies and Taiwan-based fuel cell systems manufacturer Asia Pacific Fuel Cell Technologies (APFCT). APFCT developed the fuel cell-powered scooter for sale in Taiwan, where they have seen some commercial success as well as in China, where they were just approved.
H2 will first bring the scooters to Hawaii as rentals for tourists but the company has hopes that it can successfully open up sales to consumers across Hawaii and the rest of the United States.
While APFCT states that its ZES scooters can travel just 50 miles before needing to stop for refueling, the company has kept the process of doing so quite simple. The hydrogen is stored in two removable canisters mounted on the scooter so that when the need for refueling arrives, scooter owners can just exchange an empty canister for a full one. It takes less than a minute to make the exchange, as since 2000 APFCT has been working to put convenient exchange programs in place at existing gas stations.
Zero emissions, zero noise, simple refueling, and better efficiency than electric or battery-powered scooters all while capable of attaining 35 miles per hour? Sounds like the perfect all-around vehicle for the majority of city folks. Let's hope the initial launch in Honolulu is a success so we see the new scooters here on the mainland, too.
German Manufacturers Believe in Electric Scooters
In Europe or in the United States, it seems there are more people talking about electric cars than people actually buying one, but it's the opposite with electric scooters. It's much less of a statement, and people buying an electric scooter don't raise attention, but their number is growing. Silently, of course. Except maybe in China, where thanks to strong government support, the electric scooter is a large and mature market. The Chinese government did it the authoritarian way, by outlawing gas scooters in some cities. That wouldn't work in the western world. The electric scooter needs to succeed by its own virtues. Pricing and ease of use will be two decisive factors.
An electric car is much more expensive than a gas one. For example, the price of an electric Ford Focus can easily be compared to the price of the standard model. The difference is several thousand dollars. An electric scooter is also more expensive than a gas one, but the difference is only a couple hundred bucks. That's a much smaller pill to swallow. Then, there's the delicate question of charging needs, but the electric scooter has the easiest answer: it doesn't need any specific equipment. With a small battery, it will plug just fine into any wall socket. A good match with a customer's expectation is also a good thing, and few people will worry about the shorter range of a scooter.
Several large companies have already thought about the subject, and we've seen
BMW introducing a promising electric scooter at the Olympic Games
. Smart has already launched a bike with electric assistance in Europe, and it has committed to an electric scooter (the illustration above shows the concept). That one should appear in 2014 at the latest. But something new, and maybe more important, happened on Monday. It's news from Bosch. As the world's leading automotive supplier, Bosch manufactures millions of electric motors each year: starter motors, alternators, and all the small motors which are everywhere in a car, to actuate power windows, seats, sunroofs, wipers, pumps, etc. Bosch has established a joint venture with Ningbo Polaris Technology Co. Ltd. You've never heard of this Chinese company, but it sold more than one million electric scooter motors last year. It sells its products under the Poltm brand name. They're mostly small wheel-hub motors, with little power, 1500 or 2500 watts. In Europe, you can find them in
Elmoto
scooters to give just one example.
The joint venture, where Bosch will be the majority stakeholder, will allow the German giant to enter the global eScooter motor market, and in high contrast to the electric car market which which has yet to take off, is a fast-growing market now. China is and will remain the dominant playing field, but the Bosch brand name will be a strong asset in Europe. Right now, there are more than 10 Chinese manufacturers selling (or trying to sell) their products in Europe. They all share an unknown brand name and questionable quality. There's no doubt a Bosch logo on the motor would help a lot to convince customers. With Chinese cheap manufacturing capacities and German managing and know-how, it's a safe bet that the electric scooter will gain a sizable market share in short order.