Seriously, I love headlines but this takes the cake.
The Huffington Post story today "
Honda's UNI-CUB Robotic Unicycle Could Replace Scooter"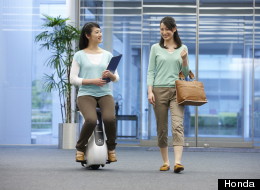 This is like the Mini Segway some engineer decided to see if he could design, but the truth is nobody in Japan short of a few people at Honda will be sitting on this thing.
Story goes on to say "
The UNI-CUB advances the technology from the U3-X, allowing riders to move forward, backward, sideways and diagonally, which enables them to move through crowds more easily." "
The device will be at Japan's National Museum of Emerging Science and Innovation starting in June. Although Honda says it doesn't have plans to sell it at this time, the automaker is clearly working on getting this kind of technology into consumers' hands."
American magazines love to come up with headlines, but the truth is this thing will never be used nor is it a scooter.